Bridget Riley, Big Blue, 1981-82 (detail) from the collection of the Queensland Art Gallery/Gallery of Modern Art, Brisbane
Bridget Riley: The Australian Perspective
by Boris Cornelissen | 9 May 2020
With works in every major museum collection and many private collections across the continent, Bridget Riley in Australia was an obvious topic to start this series of articles dedicated to exploring international contemporary art in Australia. The aim, to narrate recent art-history from the perspective of works in Australian collections, is ideally suited to Riley, who has an equal amount of canvasses in the Tate Collection as in Australian collections – considering her very limited output of around 100 paintings per decade, this is not an unimpressive feat for a country on the other side of the world. Interestingly, most of Riley's work made its way to Australia early on – with the exception of private collections, all seven paintings and all but one of the eleven works on paper were acquired before 1985. As a consequence, all works by Bridget Riley in Australia are from her earlier years, with only one painting and one work on paper from the Egyptian series, and none from later bodies of work.
See full list of Bridget Riley works in Australian collections
"No painter, dead or alive, has ever made us more aware of our eyes than Bridget Riley."
– Robert Melville
Few artists in the twentieth century have managed to pursue as many radically unique expressions of abstract painting as Bridget Riley. Throughout her six-decade long career, she has continually reinvented her artistic language, moving from austere black-and-white abstraction to chromatically rich and visually complex compositions, each time employing a visual vocabulary that was remarkably different from what had been achieved in abstract painting already. Riley's early works such as Opening (1961) and Remember (1964) resonated with the newly emerging Op Art of contemporaries such as Victor Vasarely and Jesus Rafael Soto. Whilst several of her paintings were included in a seminal exhibition dedicated to the movement, The Responsive Eye at the Museum of Modern Art in New York in 1965, Riley herself rejected this association. And indeed, reducing Riley's oeuvre to the pursuit of optical illusions would not do it justice, certainly considering the direction in which it would develop over subsequent years. Nonetheless, her work has an unusually powerful visual impact that has even been described as aggressive, and its effects on the eye can be remarkable.
The ambition of Riley's work was not unlike that of French pointillist painter Georges Seurat, who broke down his paintings into multi-coloured dots that blend together in the viewer's eye, thus demonstrating how the spectator occupies an active role in the perception of an artwork. Having discarded the figurative impulse of her post-Impressionist precursors, Riley explored the effects of perception on a more fundamental level. She gave up colour in 1960, which she felt was an obstacle to achieving the clarity and precision she was after, and even removed her own hand from her work, leaving the actual painting to studio assistants so that she could observe from a critical distance. It has often been remarked that the viewer occupies a more active role in Riley's work, as the act of human perception activates the paintings, which are made with exactly that function in mind. The resulting paintings are radical, with the extreme contrasts and repetitive geometry creating jarring visual effects that can be unsettling for the viewer. However, as Riley dryly observed:
"People frequently experience visual events in nature which are far more violent, and even blinding, than anything I have done on canvas. A glittering expanse of sea or a shimmering tree is far more disturbing. The hub of the matter seems to be what is expected and what can therefore be accommodated. People would be very shocked indeed if the world itself was as dead in its appearance as they seem to expect a painting to be."
– Bridget Riley
Although the artist herself might not have considered her paintings particularly violent, it is also important to realise how different they were from anything that was painted before the 1960s. These days it seems hardly radical to paint a smooth, flat surface, but that in itself was already completely novel. Although audiences were familiar with contemporary abstract painting through Abstract Expressionism in America and Tachisme in Europe, those practices were still painterly – the brushwork, and the artist's hand were still visible. Riley's paintings were completely flat, and she didn't even paint them herself!
Alongside paintings such as Opening, in which the visual impact of the starkly contrasting bands of black and white paint has a dazzling effect on the viewer, Riley's other works from this period explored the illusion of space and movement on a flat surface using meticulously rendered gradients of grey. Riley attempted to use colour during this time, but found the results unsatisfactory and only managed to incorporate colour as subtle undertones within the gradients. Both Remember (1964) and Study for Deny series (1966) are important examples of this. The former (a rare early work still in private hands with a sister painting is in the collection of the Tate Modern), creates the impression of condensed three-dimensional space whilst the latter creates the optical illusion of movement in the static image. On a formal level, most of these early paintings operate by establishing a logical sequence or progression, which was then destablised by a change in the pattern to create optical effects.
"I have been using stripes, either parallel or twisting around each other, because they are unassertive forms. Form and colour seem to be fundamentally incompatible – they destroy each other . . . colour energies need a virtually neutral vehicle to develop uninhibited. The repeated stripe seems to meet these conditions."
– Bridget Riley
Having struggled with the challenge of incorporating colour into her paintings for several years, Riley finally succeeded in 1967 by reducing the formal composition to a series of slender vertical stripes executed in intense, saturated colours. These large-scale horizontal compositions might have been simplistic in theory – a series of vertical lines in two of three colours separated by white space – yet their visual impact is anything but. Gamelan (1970) is an excellent example of this, spanning nearly 3 meters in width. Whilst only three colours are used (green, red and blue), the pattern changes from the outer edges where the dominant colours are red and blue, towards the centre where blue and green are the strongest. The overall impression is not one of static vertical lines, but of an intensely overwhelming explosion of colour gradation – thus continuing Riley's quest into activating the act of perception. Even though the reproduction of Riley's works doesn't capture the intensity of the paintings in real life, you might notice that this paragraph is becoming harder to read because of the image below.
By the time Riley started on her new body of striped paintings in 1967, she was an established name and two of her works had already been acquired by the National Gallery of Victoria in Melbourne – before she ever had any solo exhibitions in Australia. But the majority of Riley's exposure to the country was to come over the following decade, particularly towards the end of the 1970s. It probably helped that her fame grew after winning the International Prize at the Venice Biennale in 1968, making her the first woman and the first living British painter to win the prestigious award. Amongst the many Australian collectors who would acquire Riley's work during this time were interior designer Lex Aitken and his partner Alfredo Bouret, who bought a total of 11 paintings and works on paper before 1973 – making it likely to be one of the larger collections of her work in private hands at that moment (these works were sold by Deutscher+Hackett in Sydney in 2013). Moreover, with her first selling exhibition in Australia at Coventry Gallery in Sydney in 1977, the Art Gallery of New South Wales and the National Gallery of Australia would acquire three major paintings: Aurum, Reef and Veld.
At this point in time, Riley's paintings had evolved into a much more lyrical appearance than either the early black and white work or the vertical stripe paintings. Whilst they were still composed of monochromatic lines, her series of 'curve paintings', which she had experimented with since the 60s but worked on exclusively from 1974-78, had taken on the shapes of lyrical curves flowing down the canvas, enhancing the optical effects of colour juxtapositions through their mesmerising formal compositions. The lines were no longer the same width as they had been before, but were now contracting and expanding, with various colours taking turns in each individual line to create even more complex effects. Moreover, these works could create the impression of depth and movement at the same time.
"When played through a series of arabesques the curve is wonderfully fluid, supple and strong. It can twist and bend, flow and sway, sometimes with the diagonal, sometimes against, so that the tempo is either accelerated or held back, delayed."
– Bridget Riley
From a distance, Aurum (1976) appears full of colour – swathes of yellow, orange, purple, pink, green and blue play up in various gradations. Yet upon closer inspection, the work – titled after the Latin word for gold – is executed in only three colours: yellow, blue and pink. As Riley has demonstrated continuously, it is our perception of colour combinations, and particularly the effects of direct juxtaposition, that influence what we see – more so than what's actually there. In the words of British critic Robert Melville: "No painter, dead or alive, has ever made us more aware of our eyes than Bridget Riley."
Both Aurum and Reef signal an interesting stylistic turn in Riley's development. Whereas her earlier paintings up to 1974 resonated to a larger extent with global artistic fashions and the aspirations of minimalism and hard-edge abstraction, the lyrical nature of her curve paintings seemed to pull her practice in the opposite direction. Although this would be a rather simplistic understanding of Riley's artistic vision, the move away from geometric abstraction and into the direction of what might have derisively been called 'decorative' patterns was indeed at odds with prevalent tastes.
But Bridget Riley had never measured herself against her contemporaries – her artistic ambitions were aligned not with the minimalists, but with Cézanne, Seurat, Klee and Mondrian. And arguably this would set Riley apart from most of the other abstract painters from the 1960s, many of whom would get stuck with their formal discoveries and dogmatic understanding of art. By the mid 1970s, Riley on the contrary had just introduced a new body of work and would have another four decades (and more) of stylistic development ahead of her. And the next phase of her oeuvre was not far away. A major mid-career survey of her work spanning from 1959-1978, organised by the British Council, had been organised to travel from the US to Australia and then to Tokyo. Riley travelled with the exhibition, and in Australia she visited the Great Barrier Reef, Alice Springs and Ayers Rock, after which she returned home via Bali. Alongside this major travelling exhibition, she had another selling exhibition in Australia in the autumn of 1979. Both in Melbourne, at the Australian Galleries, and in Adelaide, at Bouython Gallery, she was showing a selection of drawings.
Later that year, in the winter of 1979-80, she traveled to Egypt where she was surprised to discover the recurring use of five colours on the tombs of the Pharaohs from Luxor. The memory of these vivid colours stayed with her, and upon returning to London she started to work with them, resulting in the series known as the Egyptian paintings, using a palette of red, blue, yellow, turquoise and green – an excellent example of which is housed at the Gallery of Modern Art in Brisbane. Returning to the stripe format to tackle this new chromatic diversity, Big Blue (1981-81) has a more complex colour pattern than most of Riley's earlier paintings, in which the impression of colours was created by juxtaposing only two or three colours, and is punctuated by bands of white and black.
Following the acquisition of Big Blue by the QAGOMA in 1984, the museum organised an exhibition dedicated to Riley's art in Australia, titled Bridget Riley: An Australian Context in 1985. Including works from other institutional collections such as Aurum (1976), the exhibition in some ways marked the culmination of a decade of Bridget Riley exhibitions on the continent, starting with her first show at the Coventry Gallery in Sydney in 1976. Curiously, despite the initial excitement around her work and the flurry of acquisitions from both institutional and private collectors throughout this time, it also marks the beginning of a 20-year long hiatus from Australia – and the end of institutional acquisitions. This is a shame, as Riley's early work is well-represented in Australia, from Opening (1961) to Big Blue (1981-82), but no works at all from any subsequent series have found a permanent home here yet.
Thus, when Riley introduced a new series of paintings which added diagonals to the vertical compositions in 1986, effectively breaking down the lines into smaller lozenges that added a new compositional complexity to the paintings, it wasn't until 2004 that these would be exhibited in Australia – and the same goes for her curvilinear paintings from 1997 onwards. Both bodies of work would take the chromatic diversity of her Egyptian palette, but were compositionally more complex – more so even than the curve paintings from the mid 1970s.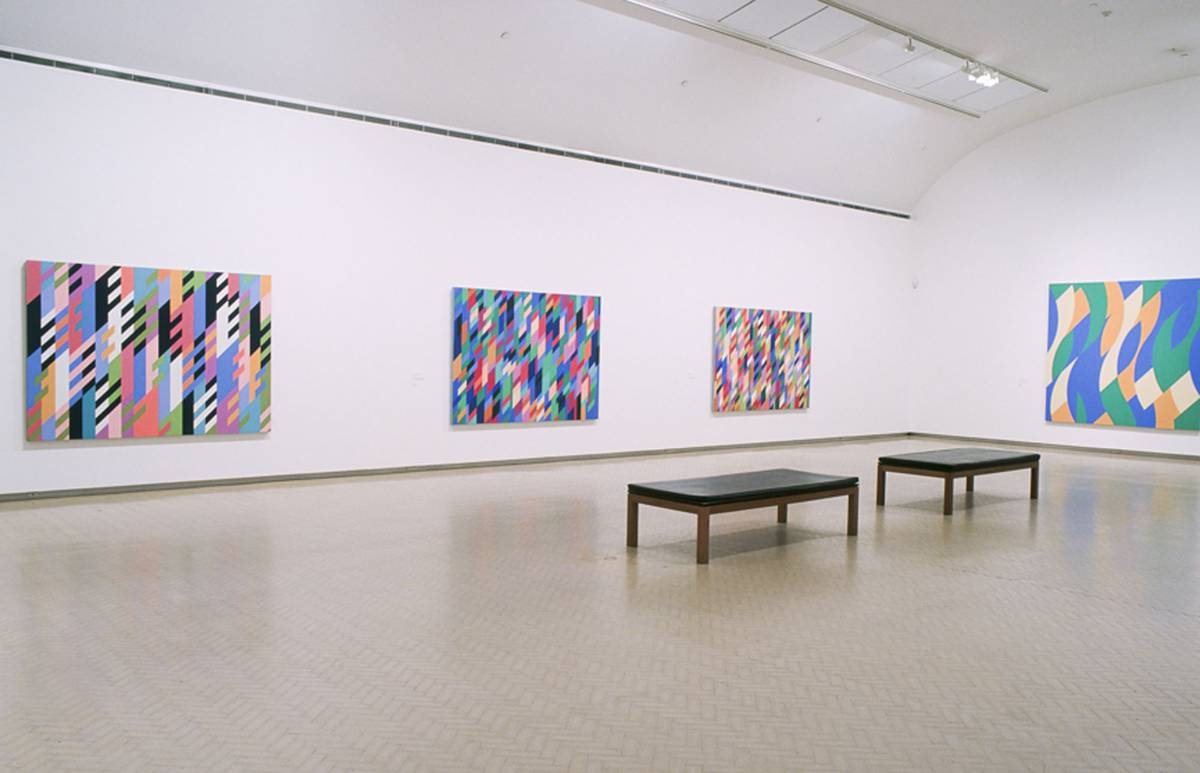 Alongside her earlier work from Australian collections and beyond, these two new bodies of work (as well as a black and white wall drawing), were shown in both Sydney and at the City Gallery in Wellington, New Zealand in a major retrospective survey that included 38 paintings and 70 works on paper spanning from 1961- 2003. Although there were significantly more works by Bridget Riley from Australia, it's worth pointing out here that the artist had a long-standing friendship with one of New Zealand's curators, Jenny Harper, whom organised the acquisition of the wall painting Cosmos for the Christchurch Art Gallery Te Puna O Waiwhetu in 2013 – and who knew Riley since writing her M.Phil on her work in London in 1981 (more about which can be read here).
The 2004 retrospective would also be the last exhibition of Bridget Riley in Australia up to the present day – although several of her paintings, including those at the National Gallery of Australia, can be admired as part of the collection displays.
---
Bridget Riley solo exhibitions in Australia
Coventry Galleries, Sydney, Bridget Riley, 1976
Centrepoint Gallery Space, Sydney, Bridget Riley: Works 1959-78, August – September 1979
Art Gallery of Western Australia, Perth, Bridget Riley: Works 1959-78, October – November 1979
Australian Galleries, Melbourne, Bridget Riley: Drawings, July 1979
Bouython Gallery, Adelaide, Bridget Riley: Drawings, 1979
Queensland Art Gallery, Brisbane, Bridget Riley: An Australian Context, 1985
Museum of Contemporary Art, Sydney, Bridget Riley: Paintings and Preparatory Work 1961-2004, 2004-05, link
City Art Gallery, Wellington, Bridget Riley: Paintings and Preparatory Work 1961-2004, 2005, link
---
---