Cindy Sherman, Untitled #92, 1981 (detail) from the collection of the National Gallery of Australia, Canberrra
Cindy Sherman: The Australian Perspective
by Boris Cornelissen | 7 June 2020
With works spanning from her early and seminal Untitled Film Stills to her more recent society portraits, Cindy Sherman is another artist who is exceptionally well-represented in Australian collections. Between the public collections in Sydney, Melbourne, Brisbane and Canberra, Australia is home to 18 of her works, including important historical pieces such as Untitled Film Still #3 and Untitled #92 from the Centerfolds series, and has hosted two major exhibitions of her work.
See full list of Cindy Sherman works in Australian collections
"I know the camera always lies"
– Cindy Sherman
When Cindy Sherman's work was first shown at a Sydney Biennale in 1984, she was still relatively unknown. At 30 years old, her first solo exhibition had taken place only four years earlier at Metro Pictures in New York. Yet despite her young age, she already had a series of major institutional exhibitions under her belt with her works travelling to the Netherlands, Belgium, West Germany, France, Switzerland, Denmark and the United Kingdom in 1982. More impressively, in 1983 the National Gallery of Australia acquired not one, but six of her photographs for their collection – including three Untitled Film Stills and two works from the Centerfold series (all of which were featured in her European touring exhibition). Three years later, the Art Gallery of New South Wales would acquire another four works, giving an indication of her popularity in Australia over decades to come.
Begun in the year that she moved to New York with her then-boyfriend and fellow artist Robert Longo, the Untitled Film Stills have become a hallmark of contemporary art. The series was inspired by Hollywood publicity stills from the 1950s that were distributed to promote new films, and depicted Cindy Sherman herself posing as various characters in non-existing movies. The 70 different black and white photographs were shot between 1977-80 at various locations in New York and elsewhere. Five works from this important series are found in Australian museum collections, including several particularly strong examples.
Cindy Sherman, Untitled Film Still #3, 1977, gelatin silver print, 16.1 by 24 cm. National Gallery of Australia, Canberra (acquired in 1983)
Although Sherman presents herself as a different character for each photograph, the works demonstrate an ingenious economy of means. She simultaneously assumes the roles of photographer, model and art-director. Often the setting and clothing are simple – she is seen wearing her normal clothes in the kitchen; in a night gown in bed; with an apron in front of her studio door; or seated wearing a dress in a formal living room. Yet despite their simplicity each photograph looks convincingly like a stills from a movie.
"She's good enough to be a real actress."
– Andy Warhol
What transforms these photographs from portraits to film stills is the artist's gaze. In none of the Untitled Film Stills does she look directly at the camera, instead focussing beyond the lens and beyond the spectator. She is clearly not engaged with the viewer, but caught up in the internal drama of the movie she is starring in. One of the works, Untitled Film Still #13 (which is not housed in any Australian collections), highlights this cinematic strategy by showing the artist picking up a book from a collection of literature on movies with the title The Internal Dialogue.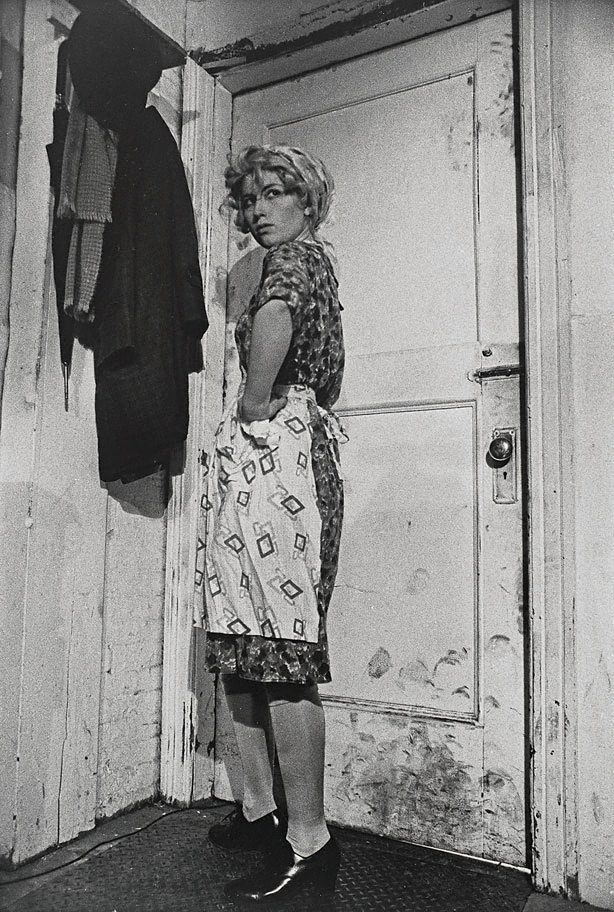 Both Untitled Film Still #3 and Untitled Film Still #35 are great examples of the actor's gaze, with Sherman looking just to the right of the camera from a heightened perspective. So convincing was Sherman at her role-play and staging that people early on thought the images were appropriated from real movies. Whilst most of the film stills are entirely fictitious, some did find their inspiration in actual films. One of those is Untitled Film Still #35, a version of which is in the collection of the Art Gallery of New South Wales in Sydney. As the artist explained:
"For the woman standing in front of my studio door, I was thinking of a film with Sophia Loren called 'Two Women'. She plays this Italian peasant. Her husband is killed and she and her daughter are both raped. She is this tough strong woman, but all beaten-up and dirty. I liked that combination of Sophia Loren looking very dirty and very strong."
– Cindy Sherman
As this quote suggests, Sherman wasn't merely interested in imitating cinema, but equally in the associative power of these images. She constantly plays with the various stereotypes of women as they are traditionally portrayed in European and American cinema: the femme fatale, bored housewife or the young career girl. But often she choses strong characters that seem to subvert such expectations:
"In most early films, women who don't follow the accepted order of marriage and family, who are strong, rebellious characters, are either killed off in the script or see the light and become tamed, joining a nunnery or something. Usually they die. I think I must have been unconsciously drawn to those types of characters."
– Cindy Sherman
Although the Untitled Film Stills lacked an obvious narrative, they resonated with contemporary American culture on many levels. Just as Richard Prince (whom she dated in the 1980s) engaged with the aspirations that were sold in advertising, Cindy Sherman captures the seductive iconography of movie stardom. Moreover, she exposes the artificial glamour which she can convincingly replicate in her own apartment.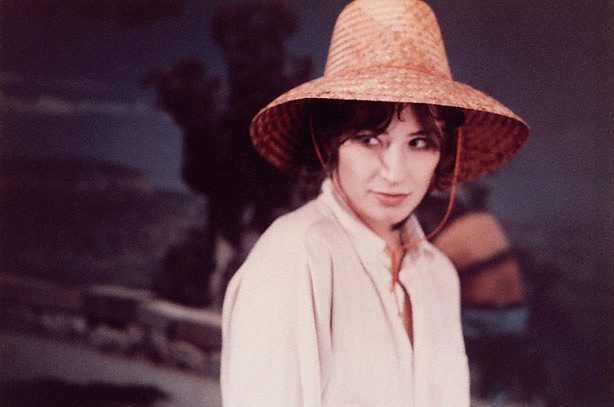 Cindy Sherman, Untitled #72, 1980, c-print, 40 by 59.5 cm. Art Gallery of New South Wales, Sydney (acquired with the Mervyn Horton Bequest Fund in 1986)
Following this defining body of work, Sherman proceeded with a second series that was also inspired by Hollywood movies, known as the Rear Screen Projections. Now working in colour, this new series was entirely produced in the artist's studio by using the old Hollywood technique of projecting the background on a screen behind the actor. Unlike the Untitled Film Stills, in which the decor plays a more prominent function, the new series of photographs were shot as close-ups, emphasising Sherman's cosmetically-altered features and blurring the projected background.
Untitled #72 from the collection of the AGNSW is from this series, and shows Sherman with a simple white shirt and a hat in front of a projection that looks like a desert landscape. Even more so than in the film stills, the artist's absent-minded gaze is an important feature as it creates an implied barrier between the viewer and the actor. From up close and printed on a larger scale than the earlier work, her facial expressions are also easier to read and imbue the works with a more psychologically charged dimension that will become even more outspoken in her subsequent series.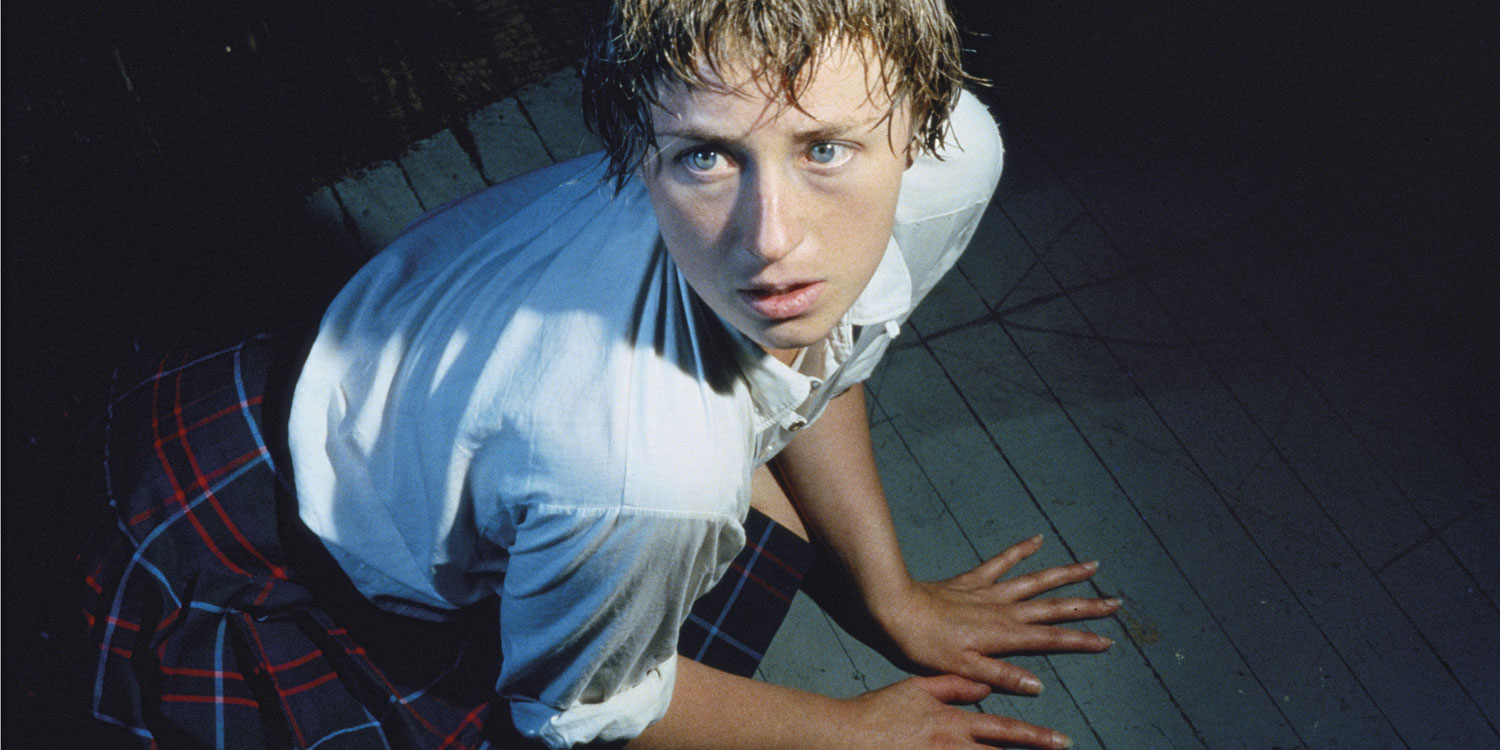 Cindy Sherman, Untitled #92, 1981, c-print, 61 by 121.7 cm. National Gallery of Australia, Canberrra (acquired in 1983)
The following works would be the first to move away from Sherman's earlier interest in film, and address a completely different phenomenon: the centerfold. Referring to the double-page central spread in publications, the term was initially used for the full-page nudes illustrated in Playboy magazines. The new series followed the wide horizontal format of the centerfolds, and at more than 120 cm in width the prints were huge at the time – techniques to print on a much larger scale had not yet been invented. Compared to the Rear Screen Projections, the figures were captured in a more tightly cropped close-up then before, with very minimal backgrounds.
In contrast to the size of the prints, the images were very intimate. This was done on purpose, as Sherman had intended to make the photographs confrontational in a very different way from the Playboy centerfolds. They were meant to make the reader aware of their voyeurism by confronting them with a very intimate scene. The series was initially met with some controversy, as they had been commissioned by Artforum to be printed in their magazine as actual centerfolds. Some interpreted the vulnerability of the characters as much more than the male gaze, and suggested that they depicted victims of abuse.
Yet even though Sherman deliberately commented on the male gaze by employing a famous format from Playboy magazine, the facial expressions in the Centerfold photographs are again ambiguous. It is interesting to note that even the Untitled Film Stills had in the 1980s and 1990s been interpreted as depicting victims of an invisible danger – even though they often depict women in positions of power, and Sherman has never explained the works as such.
With the Centerfold series, the artist intended to confront the viewer with intimate scenes, blown-up to a life-size print, that would make the spectator feel like an intruder. One of the more famous works from the series, Untitled #93 (1981) from the collection of the National Gallery of Australia, certainly feels like it achieves that.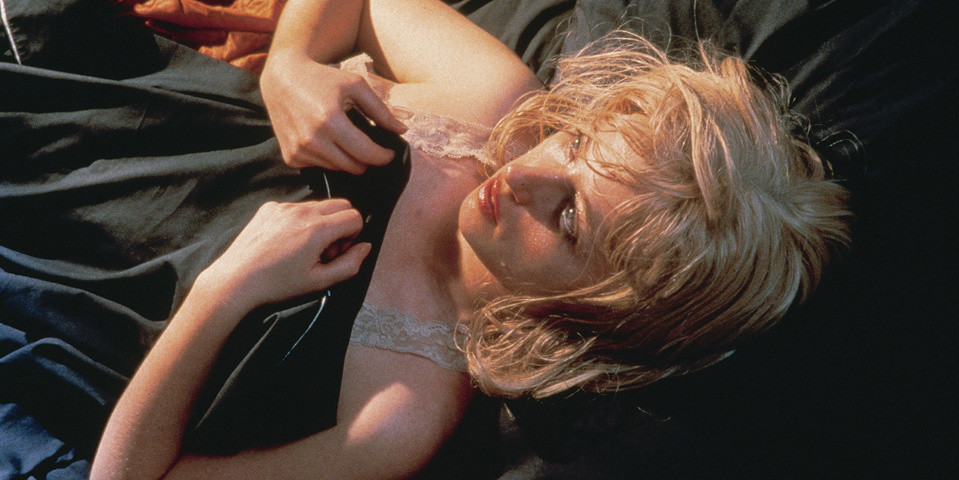 Cindy Sherman, Untitled #93, 1981, c-print, 61 by 121.7 cm. National Gallery of Australia, Canberrra (acquired in 1983)
"I was thinking of a woman with a terrible hangover who had just gone to bed about an hour before. Now the sun is coming up and it just woke her up. Her makeup is all smudged and she is already sticky from the heat of the day. She wakes up and looks at the sun as if she's thinking: "Oh, it's that" or something. That is just such a simple idea, but people are saying it looks like, you know, she has just made love."
– Cindy Sherman
Despite some controversy, the twelve Centerfolds were critically acclaimed when they were exhibited at Metro Pictures in 1981, and subsequently Cindy Sherman was invited to participate in the Venice Biennale and Documenta VII. The famous New York art critic Peter Schjeldahl was blown away with the series too, and recalled: "I immediately called the two publications I wrote for only to discover that they had already assigned reviews. I had to write something that day, and it turned out to be a check." The National Gallery of Australia did just that two years later, acquiring #92 and #93. They were lucky to be so early, as one of the Centerfold works would become the most expensive photograph ever when it sold at auction for US$ 3,9 million in 2011 (that record has since been broken by Richard Prince and Andreas Gursky).
Another prominent New York art critic, Robert Smith, noted not only the subject matter, but also Sherman's clever engagement with the medium of photography:
"The psychological weight of the work is so direct that at times it seems to free the viewer to see very clearly the formal manipulations which are at its source. Sherman makes you understand the components of photography with a particular bluntness which is one of her trademarks. The roles of color, light, cropping, space, eye contact (or lack of it) are continually stated and restated and we read them just as we do details of clothing, hairdo, posture, flooring. Despite all this the effect is not simply didactic; everything is both laid out and convincingly, ingenuously synthesized."
– Roberta Smith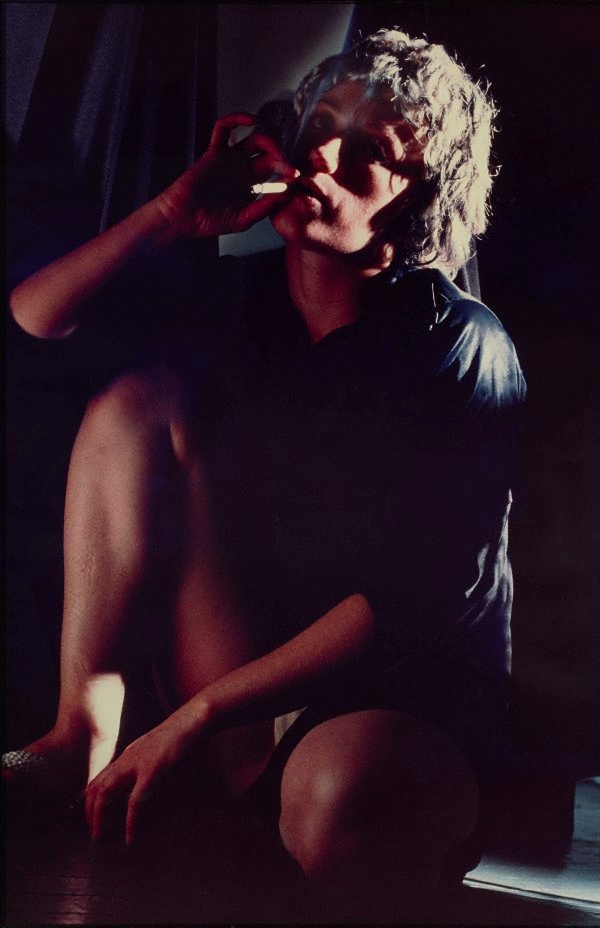 After using the horizontal compositions of the movie screen and the centerfold format, Cindy Sherman turned to a vertical orientation in 1982 for two related bodies of work called Pink Robes and Colour Studies. The first series, which includes Untitled #100 (1982) for the first time showed the artist with no make-up or elaborate outfits, only wearing a pink robe. More importantly, this time she stares straight into the camera, breaking the barrier between the artist and the viewer. For this series, Sherman imagined herself as a nude model resting in between shots; guarded but relaxed. Untitled #113 (1982) from the Colour Studies, shows the artist in a similarly dark setting wearing a wig and a purple dress, smoking a cigarette. In this series, she imagines herself not as a movie actor but a more ordinary figure with a psychological backstory instead of an overtly expressive face.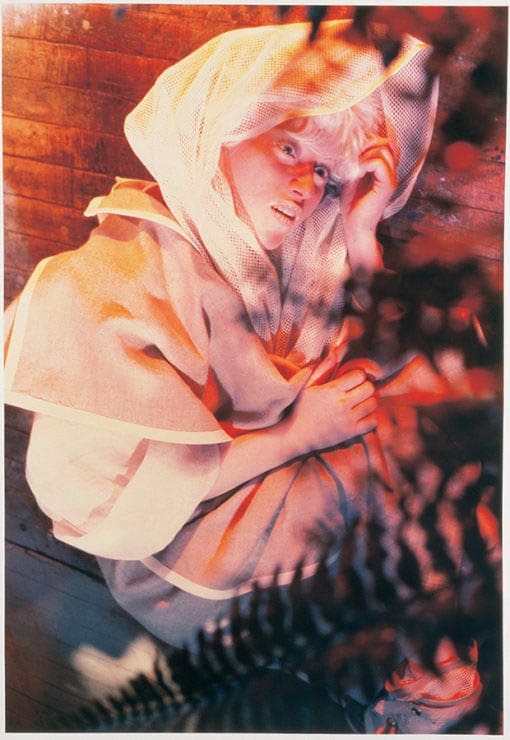 Cindy Sherman
Untitled #130, 1983
c-print
101.2 by 75.8 cm.

J.W. Power Collection at the Museum of Contemporary Art, Sydney
In 1983, Cindy Sherman was commissioned again, this time by the owner of a New York fashion boutique. The brief was to photograph herself in expensive designer clothing by labels such as Jean-Paul Gaultier, Issey Miyake and Comme des Garcons. Yet rather than mimicking fashion models the way she had movie stars, she sought to contrast the glamour of the clothing with the least glamorous models imaginable. Explaining her intentions, the artist stated: "I'm disgusted with how people get themselves to look beautiful… I was trying to make fun of fashion."
Both Untitled #130 and Untitled #131 (both 1983) from the J.W. Power Collection in Sydney demonstrate this subversive modelling. The first shows the artist seen from above through fern leaves, sitting on the floor against a brick wall with one hand in her hair and the other one in her lap – the sight of desperation rather than glamour. Untitled #131 takes this kind of critique even futher: here, Sherman is seen posing awkwardly in front of a decidedly outdated and cheap-looking floral backdrop. More importantly, she is wearing a Jean-Paul Gaultier dress with a conical bra that exaggerates her breasts, but has pushed back the protruding tips, making the image look like an elaborate joke.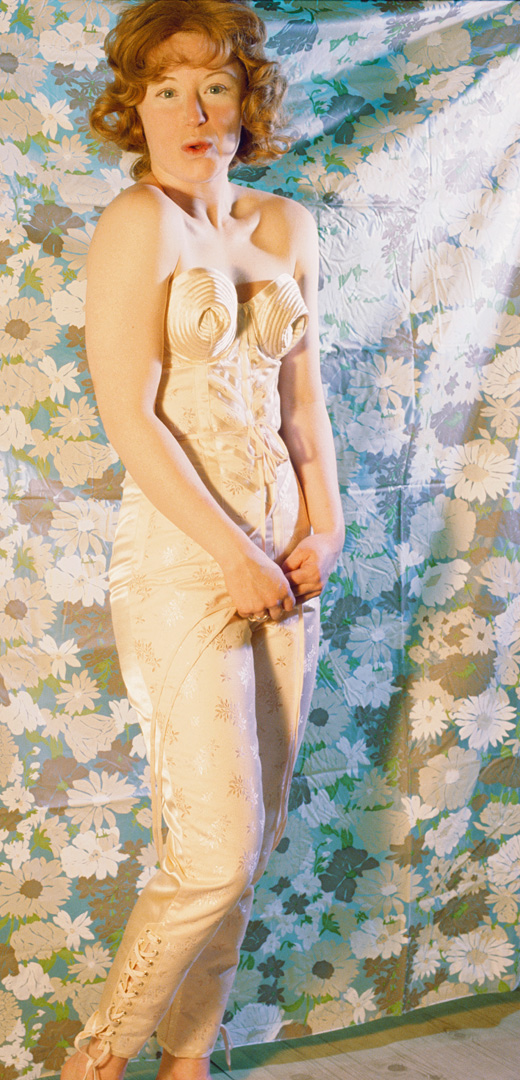 Cindy Sherman
Untitled #131, 1983
c-print
87.6 by 40.3 cm.

J.W. Power Collection at the Museum of Contemporary Art, Sydney
Although Cindy Sherman was a well-known name by the late 1980s and ten of her works had made their way into Australian museums, her real breakthrough came with her series of history portraits. Whereas there had been some resistance of the medium of photography early on (and there still is today), these new photographs engaged with history painting and were met with renewed enthusiasm.
"In the History Portraits, created in 1989-90 on the theme of Old Master paintings, Sherman unleashes the full blast of her iconoclastic verve. False noses, false breasts, cheap costume jewelry, everyday fabrics, and thickly plastered makeup are assembled under dazzling, bright light: the joke shop takes its revenge on the museum…the references are precise in some cases, and more fragmented in others…The overall impression is of an unsavory cultural minestrone, floating with bits of Fouquet, Raphael, Rubens, Fragonard, and Ingres…Sherman highlights the creation of a world where formal invention, fantasy and satire reign supreme."
– Jean-Pierre Criqui
Portraying herself as various imaginary historical characters, Sherman had to go to new extremes with costumes and make-up – yet made no attempt to hide the artifice. In Untitled #183-A (1988-2003) from the collection of the National Gallery of Victoria, we can clearly see her wig overlapping with her real hair, and the fake breastplate she is wearing. For the first time in her career, she now also plays a male model, requiring even more of a transformation than in her previous work.
Pushing her aesthetic into a new, and for many uncomfortable, territory towards the late 1980s, Cindy Sherman turns towards even more controversial subject matter in the 1990s – partly, as she has suggested, as a response to the commercial success of the History Portraits. In her series of Sex Pictures, such as Untitled #255 from the National Gallery of Australia, she is no longer present herself, but uses dolls and prosthetics to ridicule the language of pornography.
Although there are several bodies of work not represented in Australian collections (the Fairy Tales, Masks, Clowns and Head Shots amongst others), a major exhibition was dedicated to Cindy Sherman's Society Portraits at the Queensland Art Gallery / Gallery of Modern Art in 2016 (which travelled to the City Gallery in Wellington). These more recent works engage with issues of age and social status, and just like her early work they show how identity can be constructed through representation. Untitled #462 (2007-08) from the collection of the QAGOMA is a great example. Here, Sherman has depicted herself twice, in both cases wearing the same dress but with a different coats, fur and glasses. The grafiti on the wall behind her, and the champagne glasses in her hands, suggest that she is posing as an older woman at an art gallery opening, trying hard to fit in with a younger crowd.
Cindy Sherman, Untitled #462, 2007-08, c-print, 158.6 by 177.8 cm. Queensland Art Gallery / Gallery of Modern Art, Brisbane (acquired with funds from Tim Fairfax through the Queensland Art Gallery Foundation in 2011)
As one of her more recent bodies of work, that brings the collection of Cindy Sherman works in Australia full-circle. From her early series of film stills to the recent society portraits; and from Cindy Sherman portraying herself as aspiring actress to Cindy Sherman as an older woman. Yet interestingly, some observations on her work by the curator of her first exhibition in Europe back in 1982 still seem to be on point:
"Cindy Sherman's work … is intimate and vulnerable. This manifests itself most clearly at the point where she relativizes the ideal image of women in the movies or the mass media. Her photographs do not indulge in the optimistic fantasy of a happy ending – they also display feminine values like doubts and vulnerability, which are not valued positively."
– Els Barents
---
Cindy Sherman solo exhibitions in Australia
Museum of Contemporary Art, Sydney, Cindy Sherman: Retrospective, June – August 1999, link
Queensland Art Gallery / Gallery of Modern Art, Brisbane, Cindy Sherman, May – October 2016, link
---
---