Gerhard Richter, Juno, 1983 (detail) from the collection of the National Gallery of Australia, Canberra
Gerhard Richter: Abstraktes Bilder
by Boris Cornelissen | 14 June 2020
There aren't many Gerhard Richter paintings in Australian collections (five in total, spread out between the museums in Sydney, Melbourne, Canberra and Adelaide), but they're all of great quality. Moreover, they perfectly capture the various stages of Richter's original engagement with colourful  abstract painting from the late 1970s through to the 1990s.
See full list of Gerhard Richter works in Australian collections
Gerhard Richter in Australia
Before turning to the five paintings by Gerhard Richter in Australian collections, it is worth looking at the artist's long exhibition history in Australia. Richter's work had been noticed by Australian curators as early as the 1970s, which comes as no surprise considering his status as one of Europe's most prominent artists. As per usual, the National Gallery of Australia was quick to recognise the artist's importance and acquired its first painting in 1976 – before Richter's work had ever been shown in Australia. 
A year later, in 1977, Richter's painting Stadtbild PL (1970) which had previously been shown at the German Pavillion of the 36th Venice Biennale in 1972, would travel across the continent as part of an exhibition titled Illusion and Reality, making stops in Canberra, Perth, Brisbane, Sydney, Adelaide, Melbourne and Hobart. It had been bought by a private collector from Sydney, who acquired the work from Onnasch Gallery in New York (the work has since changed hands and was gifted to the Museum of Modern Art in New York by Ronald Lauder in 1994). 
Two years later, Gerhard Richter showed two of his early Abstraktes Bild paintings at the 3rd Biennale of Sydney (1979), the first of four biennales in which he would take part. During that same year, the Art Gallery of South Australia in Adelaide acquired a major painting, Abstraktes Bild (424) from 1977. The two works now in Australian collections would remain the only two until the National Gallery of Victoria in Melbourne acquires Abstraktes Bild (725-3) from 1990 in 1992. In the meantime, Richter's work makes an appearance in the exhibition Wild, Visionary, Spectral: New German Art (1986) alongside Georg Baselitz, Joseph Beuys, Jorg Immendorff, Anselm Kiefer, A.R. Penck and Sigmar Polke, which travelled to the Art Gallery of South Australia in Adelaide and the Art Gallery of West Australia in Perth. Alongside the Abstraktes Bild from the Art Gallery of South Australia, the exhibition included an early photorealist painting, another abstract and one of the artist's candle paintings.
Gerhard Richter
Claudius, 1986
oil on canvas
311 by 406 cm.

Collection of Landesbank Baden-Württemberg, Stuttgart

Exhibited at the 7th Biennale of Sydney, 1988
 Shortly after, Richter's work was included in the Sydney Biennale for a second time, in it's seventh iteration in 1988. Two paintings, each titled Claudius (1984) and over 4 meters in width, were the most impressive of Richter's Abstraktes Bilder to have been shown in Australia. The 9th Biennale of Sydney in 1993 again featured Richter's work, this time two Gilbert & George portraits and a series of over-painted photographs. In August 1998, two large abstract Gerhard Richter paintings went on view at the Art Gallery of West Australia in Perth, where they would remain for two years and then travel to the 12th Biennale of Sydney in 2000 (co-curated by an international heavyweight selection committee including Nicholas Serota, Robert Storr and Harold Szeemann). Although these paintings have not been exhibited outside of Australia, there is no evidence that they remained here.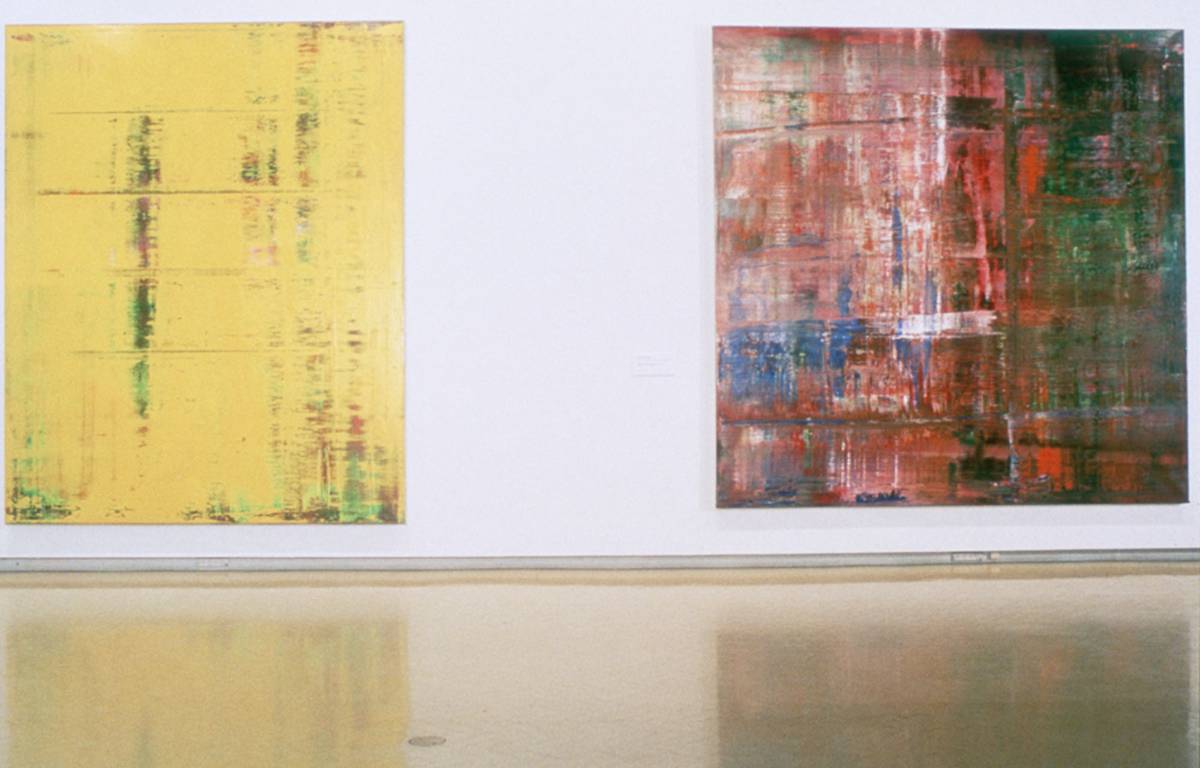 Gerhard Richter's Abstraktes Bild (812) from the National Gallery of Victoria, Melbourne and Abstraktes Bild (797-2) on view at the 12th Biennale of Sydney, 2000
Following the fourth and final Sydney Biennale in which Richter's work would be shown, the artist had two more solo exhibitions in Australia. The first was at the RMIT Gallery in Melbourne and the Sydney College of the Arts, as part of a globally travelling exhibition that included nine paintings and additional works on paper and editions. More importantly, in 2017-18 a major exhibition including 94 works was organised by the Queensland Art Gallery / Gallery of Modern Art in Brisbane, and constituted by far the most comprehensive survey of Richter's work not just in Australia, but in the southern hemisphere. Gerhard Richter: The Life of Images featured his early black and white paintings, monochromatic grey paintings, candles, skulls, landscapes, portraits, strips, tapestries, overpainted photographs and of course the Abstraktes Bilder.
---
Abstraktes Bilder
"In Richter's work there is a demonstration of the ways in which painting's resources are constantly replenished by the very problems it seems to pose, both for the painter and the viewer. Nobody in our own time has posed them better or solved them more inventively than Richter."
– Glenn Lowry
With such an extensive exhibition record in Australia, it should come as no surprise that Gerhard Richter's paintings made their way into the permanent collections of most of its major museums. It is somewhat surprising, however, that the museums predominantly collected his abstract paintings. The Gilbert & George portrait at the National Gallery of Australia is the only figurative painting in Australia, and that is already pushing the boundaries of figuration. Yet this is one of the central concerns of Richter's painterly practice: the constant push and pull between figuration and abstraction – and indeed between radically different painterly styles. As early as the 1960s, Richter's exhibitions had been described as having been painted by five different artists, so diverse was his practice.
Moving effortlessly between photorealist painting and grey monochromes, and constantly approaching painting in dialogue with photography, Richter's work never quite fit in with any of the dominant artistic developments. In fact, although it is hard to think of Richter as an outsider today, his non-committal attitude towards styles or movements is what attracted him early on to the work of Gilbert & George, whom he first met at Konrad Fischer's gallery in Dusseldorf in 1970. Like Richter, they were considered to operate outside of the mainstream, and despite their very different practices (most performance and photography-based) the English-Italian duo became friendly with Richter. 
Four years later, they asked Richter if he could paint their portrait. The German artist, however, was in the middle of a cycle of monochromatic grey paintings, and had no interest in doing so – he reluctantly agreed only if they would first do a photoshoot far away in the Alps, expecting that this would deter them from further pursuing the commission. Gilbert & George, however, agreed without hesitation and so the commission went ahead – though Richter now conveniently changed the location of the photoshoot to his backyard. The resulting cycle of eight paintings continues Richter's earlier approach to figurative painting, which was aimed at attaining the status of photography through a different medium. As he explained: 
"I'm not trying to imitate a photograph; I'm trying to make one. And if I disregard the assumption that a photograph is a piece of paper exposed to light, then I am practicing photography by other means."
– Gerhard Richter
The Gilbert & George portrait captures Richter's unusual approach to painting in dialogue with photography. Whereas his earlier photo paintings were blurry, the photographs that they were painted after were mostly conventional. The Gilbert & George paintings, however, were based on photographs that were made using several exposures that showed the two artists at the same time – presumably as a reference to their decades-long performance as 'living sculptures'. Gilbert & George (1975) in fact shows at least four different portraits of the artists simultaneously from different angles, creating a decidedly photographic effect.
Despite their completely different appearance, Gerhard Richter's new series of abstract paintings from 1976 onwards emerged from a similar engagement with photography. Following a period of personal and professional frustration that was mirrored in his series of Grey paintings, the artist suddenly turned to colour for his series of Abstraktes Bilder. Dissatisfied with his first large-scale experiment, Richter decided to work on a series of small-scale studies that he then photographed, projected and finally reproduced on canvas on a large scale. These paintings were completely anti-painterly: they were copies in paint of photographs of paintings; they undermined the directness of gestural painting, and even looked like blurred reproductions. 
These soft abstract as Richter has called them, were the first body of work to be titled Abstraktes Bilder, meaning abstract pictures. The title is significant, as it signals Richter's attitude towards the works not as paintings (Gemälde), but pictures (Bilder), thus having one foot in the photographic process. Having used photography as a source for his paintings for over 15 years, Richter's post-painterly approach to abstraction was a logical step for him, but constituted a highly unusual strategy in the history of abstract painting. During his early experiments with the new series, Richter was ambivalent about the series and was his own harshest critic: "I don't like these paintings. A few are very nice, the more broken, rough ones. But otherwise, the works have something mannerist, something unliberated." 
Nonetheless, they turned out to be a key body of work that would several years later result in some of his most celebrated works. Three of the early Abstraktes Bilder were brought to Australia in 1979: two of them to be shown at the 3rd Biennale of Sydney, and Abstaktes Bild (424) was acquired by the Art Gallery of South Australia in Adelaide. Measuring 2.5 meters in height, the origins of the blurry painting are found in sheet 405 of Atlas (see below), Richter's meticulous record of all his source material. Composed of a distinct upper and lower half, the work also seems to resonate with the landscape paintings that he produced around the same time, particularly the dramatic clouds of the Vesuvius and Cloud paintings of 1976.
Gerhard Richter, Atlas, 1977, sheet 405, Städtische Galerie im Lenbachhaus und Kunstbau, Munich
It would take several years for Richter to progress from the earlier soft abstracts to the mature Abstraktes Bilder as they are best known. Juno (1983) from the collection of the National Gallery of Australia is a great example of the direction the paintings were developing in. In the early 1980s, the works would gain a stronger sense of depth and space through the juxtaposition of soft background gradients with dominant abstract shapes, often merging various painterly techniques. The lush red and blue colourfields of Juno contrast strongly with the sharp outlines of vertical lines, broad brushstrokes, paint splatters and the squeegee, which drags punctuated fields of yellows and greens across the surface.
Gerhard Richter, Juno, 1983, oil on canvas, 250 by 200 cm. National Gallery of Australia, Canberra (acquired from Marian Goodman Gallery, New York in 2004)
But the painting is particularly signifcant for another reason. Together with his then-wife Isa Genzken, Richter had been commissioned to decorate part of a subway station in Duisberg. Genzken's proposal included two murals following the curvatures of the planet Mars on the scale 1:1,000 and of Venus on the scale 1:40,000. Aside from the planets, Mars and Venus also referred to the Roman gods for love and war, which was a reference to their relationship. In response, Richter painted two large abstracts in strong palettes of red, blue, green and yellow, titled Juno and Janus – referring to the god of marriage and the two-faced god who can see into the past and future. Moreover, Juno includes three vertical shapes that were a direct reference to Isa Genzken's early series of ellipsoid sculptures – unusually long and thin floorpieces.
Whilst Richter worked on different bodies of work simultaneously throughout the 1980s, including his photorealist pictures of skulls and candles, the Abstraktes Bilder remained an important body of work that would develop over decades to come. Shortly after he painted Juno and Janus in 1983, he would finally break through on the international art market. With his more than 20 year long career he was a firmly established name in Europe, but a cycle of abstract paintings with dominant yellows would finally solidify his reputation in the United States. When they were exhibited in New York in 1985, prices had to be raised twice before the exhibition opened and instantly sold out.
Gerhard Richter, Abstraktes Bild (725-3), 1990, oil on canvas, 225.8 by 200.6 cm. National Gallery of Victoria, Melbourne (acquired with the assistance of Westpac Banking from Anthony d'Offay Gallery, London in 1992)
Over the course of the 1980s, the soft blurry backgrounds of the earlier works would slowly disappear from the Abstraktes Bilder. Instead of the more considered juxtaposition of different modes of abstraction, the squeegee would become Richter's dominant tool towards the late 1980s, resulting in all-over compositions in which smooth colour transitions were juxtaposed with sharp breaks in the painted surface. The mesmerising effect of this is powerfully demonstrated in Abstraktes Bild (725-3) from 1990, from the National Gallery of Victoria: whilst there is no clear foreground or background, the painted surface seems almost translucent as a result of the many built-up layers of paint that have been scraped to the side.
"I want to end up with a picture that I haven't planned. This method of arbitrary choice, chance, inspiration and destruction may produce a specific type of picture, but it never produces a predetermined picture… I just want to get something more interesting out of it than those things I can think out for myself."
– Gerhard Richter
The squeegee was an important discovery for Gerhard Richter, who had been struggling with the creative impetus required for abstract painting. His earlier paintings relied on photographic source material or monochromatic abstraction, relinquishing the need for the artist's own creative input: the compositions were predetermined. In true postmodern fashion, this kind of authorless painting was exactly what Richter was after, but it seemed to be at odds with large-scale gestural abstraction. The squeegee, a flat blade used to smear paint across a surface, offered exactly the kind of synthesis of control and random outcome that Richter was after. Whilst he could steer his compositions in a certain direction, the exact outcome was largely determined by chance.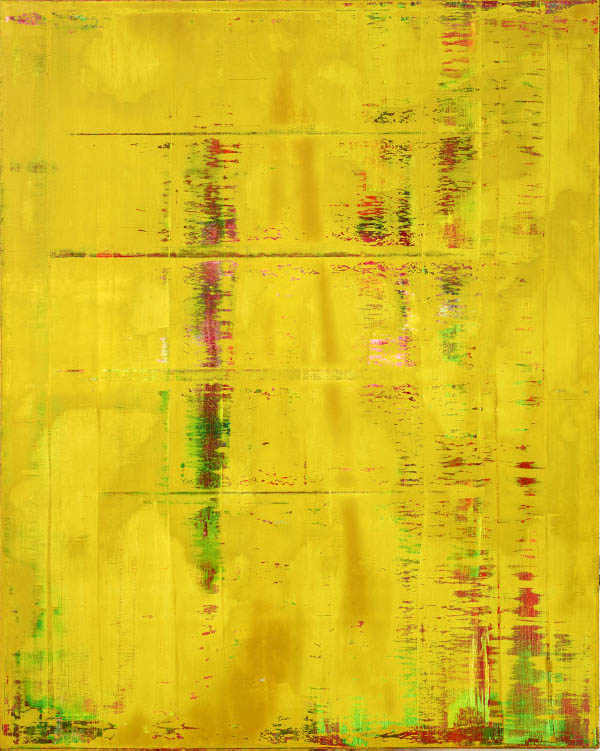 Gerhard Richter, Abstraktes Bild (812), 1994, oil on canvas, 250 by 200 cm. Art Gallery of New South Wales, Sydney (acquired from Anthony d'Offay Gallery, London in 1999)
In some ways, the squeegee achieved the opposite of painting – namely removing a paint layer rather than applying it. As is visible in the fourth and latest Abstraktes Bild in Australia, from the collection of the Art Gallery of New South Wales, the chromatically rich background of red and green is largely obscured by layers of yellow that only occasionally reveal the underlying paint surface. 
Although the Abstraktes Bilder are crucial to Gerhard Richter's oeuvre, and the examples in Australian collections are excellent, they cannot be fully understood without considering the artist's varied output – particularly his photorealist paintings. Unfortunately, these are rarely seen in Australia: aside from the Gilbert & George painting at the National Gallery of Australia, Richter's abstracts have only been shown next to other bodies of work in the 12th Biennale of Sydney and his most recent exhibition at the Queensland Art Gallery / Gallery of Modern Art in Brisbane.
Installation view of Gerhard Richter: The Life of Images at the Queensland Art Gallery / Gallery of Modern Art, Brisbane, October 2017 – February 2018
---
Selected Gerhard Richter exhibitions in Australia
Sydney, 3rd Biennale of Sydney: European Dialogue, April – May 1979, link
Art Gallery of South Australia, Adelaide, Wild, Visionary, Spectral: New German Art, February – April 1986, link
Art Gallery of Western Australia, Perth, Wild, Visionary, Spectral: New German Art, May – June 1986, link
Sydney, 7th Biennale of Sydney: From the Southern Cross, A View of World Art, May – July 1988, link
Sydney, 9th Biennale of Sydney: Boundary Rider, January – March 1993, link
Art Gallery of Western Australia, Perth, Gerhard Richter, August 1998 – May 2000, link
Sydney, 12th Biennale of Sydney, May – July 2000, link
RMIT Gallery, Melbourne, Gerhard Richter – Survey, April – June 2002, link
Sydney College of the Arts, Sydney, Gerhard Richter – Survey, August – September 2002, link
Queensland Art Gallery / Gallery of Modern Art, Brisbane, Gerhard Richter: The Life of Images, October 2017 – February 2018, link
---
---